Things to do in Lisbon and Shop Hotel Rates @ Guruescape.com
Portugal's capital city offers an unpretentious culture coupled with a splendid, historic cityscape. As one of Europe's oldest cities, it's also one of the most fascinating to explore! Here are some top tips to get you started. And remember to go to Guruescape.com to compare Hotel Rates and Airline Rates.
Mosteiro Dos Jerónimos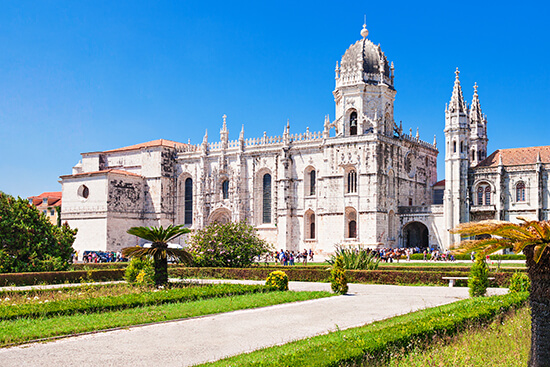 One of Lisbon's greatest historic landmarks, this UNESCO-listed monastery is a real work of art. Originally populated by monks of the Order of Saint Jerome, it became an orphanage and school after it was built in 1502. The cloisters are breathtaking, and each one is individually designed. Significant figures in Portuguese history are entombed here, including King Manuel. After exploring the octagonal piers of the church, I made my way outside to the garden, which was laid in 1940 and consists of hedges cut into the shape of a number of municipal coats of arms of Portugal.
Arguably the most iconic symbol of Lisbon, the Torre de Belém – Belém Tower – rises majestically from the Tagus River. Originally built as a lighthouse, the tower went on to be used as a fortress under the orders of King Manuel I 500 years ago. The UNESCO World Heritage-listed building is beautifully designed and I spent hours admiring the filigree stonework before climbing the narrow spiral staircase to the top. From here I was rewarded with spectacular views over Belém and the river.
Lisbon's oldest neighbourhood is bursting with a labyrinth of narrow cobblestone streets which wind up a steep hill overlooking the Rio Tejo. The charming district is also one of the only areas to be spared in the earthquake of 1755. As I made my way up through the lanes, I passed colourful houses with tiled balconies, beautiful churches and traditional trams. I also stopped to marvel at the various viewpoints which open up to reveal Lisbon before you. The Miradouro de Santa Luzia was my favourite and I sat for some time beneath the cascading bougainvillea while admiring the sweeping views over Alfama.Don't miss the chance to ride the famous Tram 28 while you're here, which will slowly pass through many of Lisbon's finest districts. It will also take you to the top of the hill if you want to save your legs.  And make sure visit Guruescape.com to compare Hotel Rates.
Time Out Market Lisboa
The first ever Time Out Market opened in Lisbon in 2014 and now attracts two million visitors a year, making it the number one tourist attraction in the city. There are so many culinary delights beneath one roof here; 34 restaurant pop-ups, to be exact. Each one has a different concept, but focuses on promoting local produce. Settling myself into one of the high benches, a quick glance around revealed regional specialities including Azeitao sheep's cheese and award-winning custard tarts. Sushi and sashimi sat alongside some of the juiciest burgers I'd ever seen, while the next stand was serving pan-fried Azores parrotfish. I feasted on a delicious plate of fresh sushi from Confraria, which has a restaurant in the city, before pouring myself a pint of Super Bock from the bar in the centre of the market. I remember looking across at my neighbour's plate of stuffed crab and feeling a sudden pang of food jealousy. I could easily have eaten here every night.
What better way to round off a scrumptious meal than with a world-famous custard tart? Yes, there was a queue outside the door when we arrived at Pastéis de Belém, but I didn't care. I'd been told by everyone not to miss out on this taste sensation, so I stood my ground until we were finally shown a table. Inside, the bakery is huge – the corridor winds on and on, with walkways peeling off to reveal more seating. I was struck by how unassuming the bakery is inside. Decorated with blue and white mosaic tiles, it first opened in 1837 and is still thriving today. And it is easy to see why: we ordered a plate of custard tarts between us and had polished them off within seconds. Served warm with icing sugar dusted on the top, they melted in the mouth as soon as I took a bite. The original recipe is a heavily guarded secret; so sadly, I will never be able to recreate that sumptuous taste. Yet another reason to return to Lisbon!
Eating at Cervejaria Ramiro was by far one of the best eating experiences we had during our three-week stay in Europe. For the freshness and quality of seafood and a bottle of wine, we expected a shocking bill at the end of the meal. But it wasn't the case and we wished whole-heartedly that we had ordered more exotic dishes, like king prawns.The restaurant got very busy especially during dinner time, and it took the service staff some time to get back to us with fresh plates and towels.  Also, if you're on a budget, pay attention to what the waiter recommends you to order.  Remember to visit guruescape.com for Hotel Rates.
Long the home of Portugal's monarchs, Sintra is a magnificent town of marvelous historic mansions, all set against the backdrop of lush hills. Sintra's many castles include the Palácio Nacional de Sintra (a main abode of Portuguese royalty until the early 20th century), the hilltop and storybook Palácio da Pena, Quinta de Regaleira (incorporating several architectural styles and with gorgeous surrounding gardens), the Castelo dos Mouros (Moorish Castle), and the Palácio de Monserrate.
We are a leading hotel & travel price comparison site. We use advanced search technology to find the best prices from hundreds of travel suppliers. You can find the best Hotel rates on hotel rooms, flights and rental cars.
You could save hundreds on you next vacation by booking with us.